Dr. Samson-Reyna receives Platinum Award
DAGUPAN CITY – Dr. Aurora Samson-Reyna, University of Luzon (UL) vice president for academic affairs, received the coveted "Pinablin Dagupeña" for Arts and Culture Platinum Award during last Monday's celebration of the 70th Agew na Dagupan at the CSI Stadia based in barangay Lucao here.
Describing the award as "unexpected", Samson-Reyna said "I am humbled and honored to be given this prestigious award", adding that she has been making sure that Arts and Culture are alive and well at the UL and Mother Goose Special School System Incorporated (MGSSSI) where she also serves as Director for Academics.
"Without Arts and Culture, I would not be the person I am today", she said while honoring her parents, Atty. Luis and Mom Josefa, as a "major influence" that triggered her love for different genres, particularly the performing arts.
Samson-Reyna is an active spirit behind the many youth development programs that produced the UL's nationally-acclaimed Drum and Bugle Corps (DBC), Theatre and Dance Company and the Chamber Chorus.
"I thank my siblings, Macky, Gloria and Chito for giving me the space and all-out-support at both UL and Mother Goose for every cultural project/activity I envision to undertake. I owe my success also to my dedicated and immensely talented partners – Childe, Resty, Bambi, Daniel, Geri, Rading and Randy", she said.
Samson-Reyna also credited her "inspirations" – mentor-friends and the young people – telling them to sustain their achievements; think about the future to make humanity's cultural heritage always being appreciated, valued and shared.
"By deeply understanding the role of music, dance, theatre, folk traditions, performing arts, rites and rituals, the future generation can stand in the world as a whole, balanced adults. Only they can become truly human", she explained.
In the same event, Dr. Samson-Reyna's brother-in-law, Atty. Liberato "Ope" Reyna Jr., chairman of the UL's Board of Trustees, was also one of the recipients of the city's distinguished "Pinablin Dagupeño" award.
A noted philanthropist, Samson-Reyna was earlier chosen to receive the highest Papal award in the form of a cross medal called Pro Ecclesia et Pontifice from Pope Francis for her service to the Roman Catholic Church.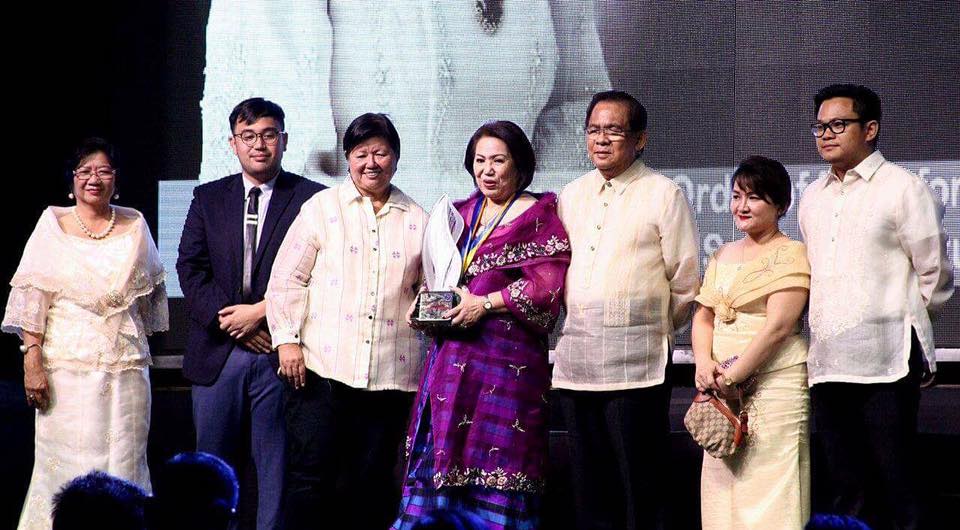 FOR THE LOVE OF ARTS – Dr. Aurora Samson-Reyna beams as she receives her Arts and Culture Platinum Award from Dagupan City Mayor Belen T. Fernandez (2nd from left) during last Monday's 76th Agew na Dagupan celebration. Also in photo are (L-R) 4th District Rep. Christopher De Venecia, UL Registrar Angel Reyna, Nancy Reyna and JR Samson-Reyna.
Source: "Pinablin Dagupena:Dr. Samson-Reyna receives Platinum Award", Dave Paragas, 7/11/2017