Dr. Au Reyna, the Pope's church lay leader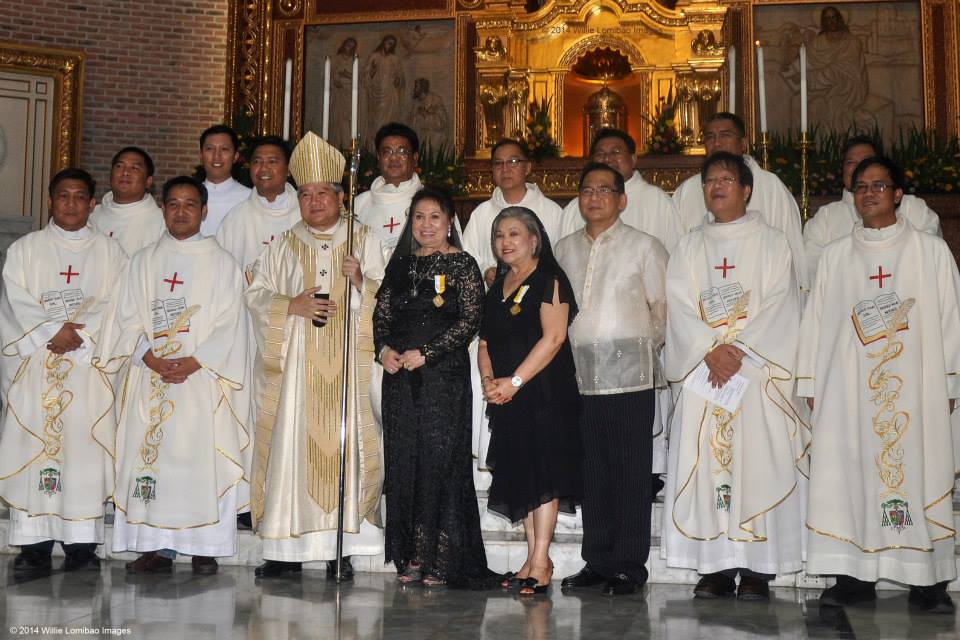 "Actually, no one deserves anything from the Lord. Everything is grace and this is a gift of grace from the Lord," – Bishop Socrates Villegas
Our friend, Dr. Aurora Samson-Reyna, senior vice president of the University of Luzon, must be on Cloud 9 last Tuesday, June 24 (birthday of St. John the Baptist) when she received from Archbishop Socrates Villegas the Vatican's Pro Ecclesia at Pontice Certificate and the Medal Cross awards.
She was overwhelmed, who wouldn't be, with no less than Pope Francis bestowing the honor?
That's why she poured everything out in her acceptance speech at the St. John's cathedral.
The award is letting her know that every little work she has done in great joy for the Lord promoting His love and compassion for the world made Him smile.
Stunned at first by Fr. Soc's announcement, Au could only cry, seeking refuge in the company of loved ones, hubby Lito and their children, sister Gloria and her husband Danny, brothers Macky and Chito, sisters in law Gertrudes and Angie, the Samson and Reyna families, friends Inday, Zeny, Helen, Terry, UL staff and co-workers in Panangaro, Mother Teresa and those who work for the Lord.
Dr. Au's leadership in Catholic work is multifaceted stretching from chairing Christ the King feast to providing shelters to the dispossessed, participating in mass action against corruption and others.
The Catholic influence came from her parents, the late Luis Samson and the former Josefa Mendoza who were both religious.
It seems the Samsons are always upfront doing Christian service. Au's sister, Gloria S. Beltran is behind the TulayngKabataan Foundation which marked its 10thPresbyteral with Rev. Fr. Matthieu Dauchez officiating on Kalayaan Avenue in Quezon City yesterday.
The group, says kindred soul Gloria, has been taking care of street children in Metro Manila since 1998.
In times like this, the women are on the ramparts, probably to give Lito, Danny, Macky and Chito a room to rearm for tougher tasks ahead. Good luck.
By the way, Rep. Gina de Venecia was stunning at Au's reception at the Stadia following the church activity.
She also was the queenly guest at Solo de Venecia's birthday bash.
Among his other guests were Zeny Palisoc of dermcare and belle la peau group, Vice Gov. Ferdie Calimlim, and Vice Mayor Roy Macanlalay, councilors Alfie Fernandez and Jose Netu Tamayo and others.
Source: "Dr. Au Reyna, the Pope's church lay leader", Think About It, Sunday Punch, 6/30/2014