University of Luzon Participates in 'Timpuyog: Region I ASEAN Plus Virtual Conference' Focused on Transnational Education Opportunities
Posted on 29th of Aug 2023 by UL Administrator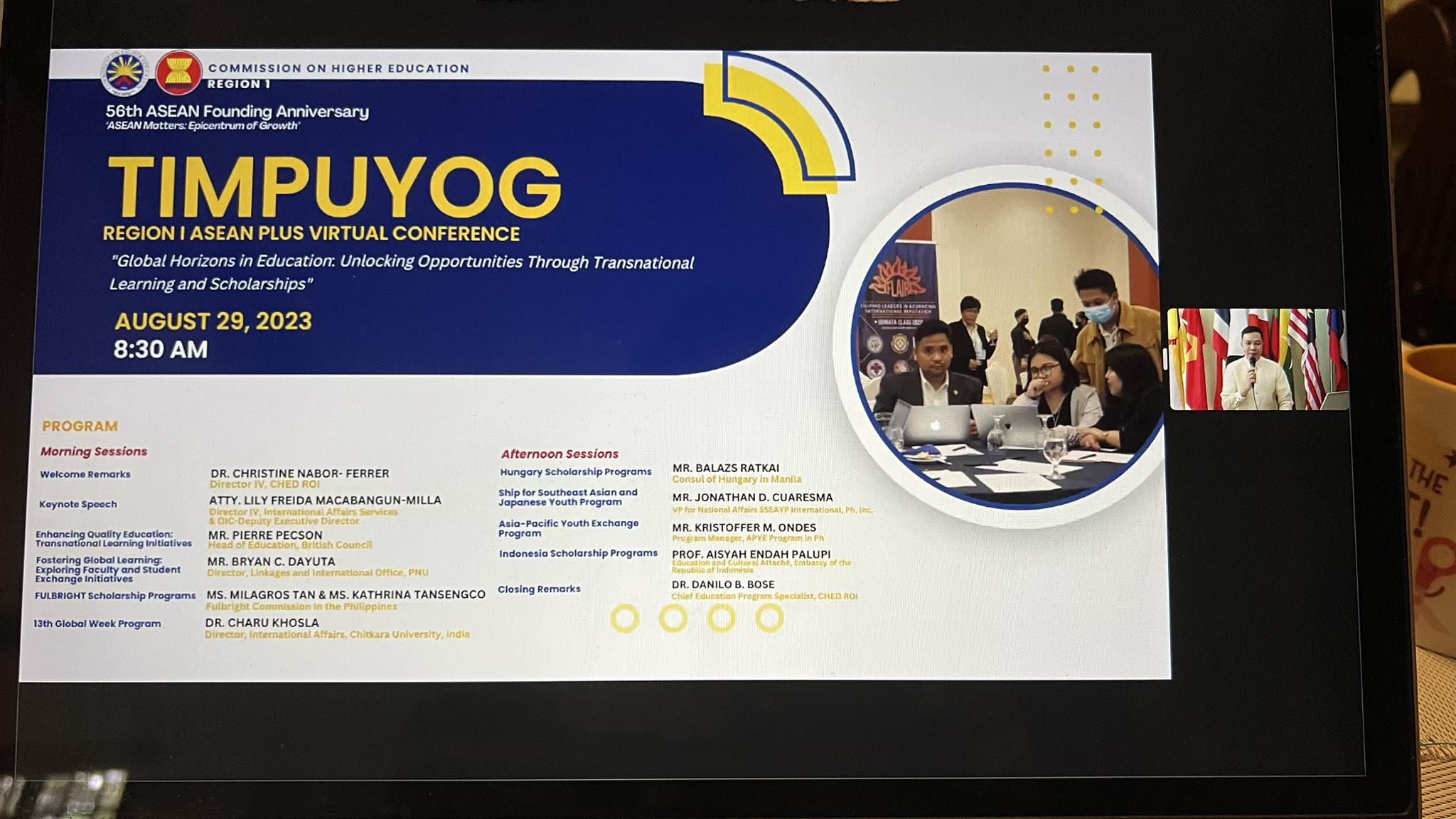 The University of Luzon proudly engaged in the enlightening 'Timpuyog: Region I ASEAN Plus Virtual Conference' held on August 29, 2023. The event, which revolved around the theme "Global Horizons in Education: Unlocking Opportunities through Transnational Learning and Scholarships," was an integral opportunity for educational institutions across Region 1 (Ilocos Region) to delve into potential transnational programs and partnerships.
Derived from the Ilokano term for 'unity,' 'Timpuyog' encapsulated the collaborative spirit of the conference, as participants from various schools and universities convened to explore avenues for mutual growth and global learning.
The primary objective of the conference was to provide a platform for academic institutions to broaden their understanding of transnational education programs and collaborations. Such initiatives open doors to international learning experiences, cross-cultural exchanges, and scholarship opportunities for students and educators alike. With the world becoming increasingly interconnected, this conference aimed to equip institutions with the knowledge and networks needed to venture into transnational education effectively.
The inaugural session commenced with a warm welcome from Dr. Christine Nabor-Ferrer, the esteemed Director for the Commission on Higher Education (CHED) Region 1. Her opening remarks set the tone for the event, emphasizing the importance of collaboration and internationalization in the realm of education.
One of the highlights of the event was the keynote address, which was delivered by Atty. Lily Freida Macabangun-Milla. Atty. Milla serves as the Director for the International Affairs Services and the OIC-Deputy Executive Director. Her speech shed light on the transformative potential of transnational education, underlining its role in fostering a global mindset among students and educators. She underscored the significance of cultivating partnerships that transcend borders, enabling institutions to collectively address global challenges through education and research.
The University of Luzon's participation in the 'Timpuyog' conference reflected its commitment to staying abreast of international trends in education. By engaging in discussions and forging connections with fellow institutions, the University of Luzon aims to enhance its educational offerings and provide its students with a comprehensive learning experience that extends beyond geographical boundaries.
The 'Timpuyog: Region I ASEAN Plus Virtual Conference' marked a milestone in the University of Luzon's journey towards global academic excellence. As the institution continues to nurture collaborative ties and explore transnational opportunities, it remains dedicated to preparing students for the interconnected world of tomorrow.