The Zettabyte Era: 1st International Cybersecurity Conference at UL
Posted on 11th of Feb 2023 by UL Administrator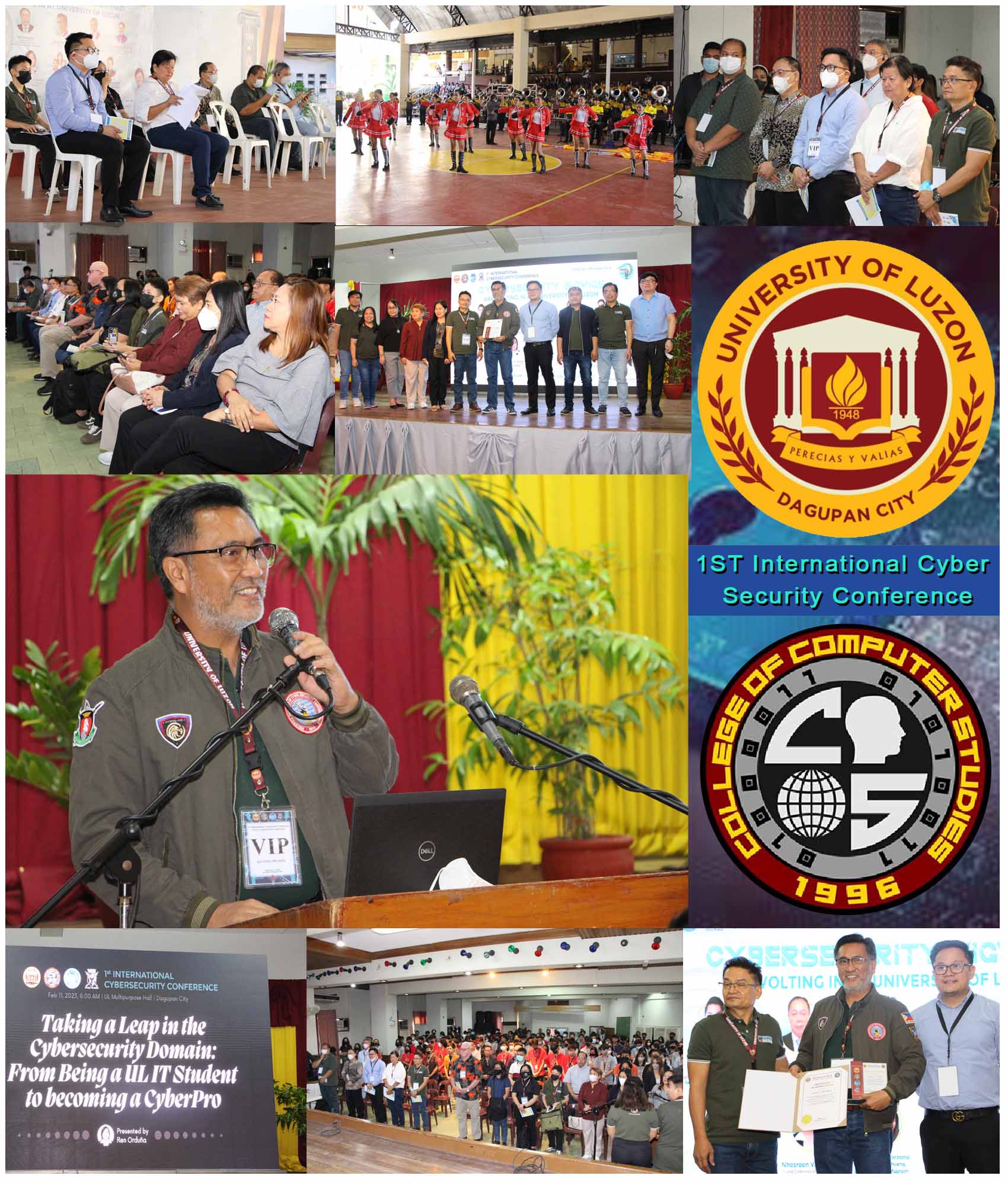 There is an urgent need to address the issue of cybersecurity in the Philippines. In terms of the number of internet users, our nation is ranked second, according to Digital 2022. Lazada, Shopee, Facebook, Twitter, YouTube, TikTok, Reddit, etc. are just a few examples of sites where this is plainly visible. The majority of Filipinos, especially the younger generations, are likely very familiar with these brands and applications. In addition, the COVID-19 pandemic compelled nations to use online technologies to maintain their economies and educational systems. As a result, more people are using internet services, and even digital banks and wallets are starting to spread throughout our nation. The Philippines' cybersecurity unfortunately falls short of international standards despite having the second-highest number of internet users.
Several well-known figures in the field of cybersecurity visited our university on February 11, 2023, a Saturday. The official program began with an introduction by Director for International Affairs Angel Samson-Reyna Jr. A list of the speakers and guest lecturers is provided below:
1.) Renzon Cruz, Principal Consultant, Incident Response and Forensics at Unit 42 (Palo Alto Networks – Dubai, UAE)
2.) Semi Yulianto, Co-founder, CEO and Chief Hacking Officer (Systech Global Informasi – Indonesia)
3.) Angel Redoble, Chief Information Security Officer (PLDT Group)
4.) Wilson Chua, Chief Executive Officer (Future Gen Int'l Pte Ltd – Singapore)
5.) Kevin Byrne, Cybersecurity Consultant (USA)
6.) Red Orduña, IT and Cybersecurity Manager (BPO Co. – Philippines)
7.) Dr. Khankaeo Maprom & Dr. Ratree Supahuang (Rajabhat Maha Sarakham University – Thailand)
8.) Tzar Umang, International Consultant on Systems Development, AI, and Cybersecurity
9.) Ylyssa Chelsea Mallare, President of UL Cyber Knights (UL College of Computer Studies)
10.) Dr. Diosdado Caronongan, College Dean of Computer Studies, Program Coordinator – MIT Cybersecurity (University of Luzon)
These experts shared incredibly insightful information about the complexities of cybersecurity and how we can strengthen our defenses by teaching students more effectively so that they will one day serve as our frontline defenders against threats and cybercrimes. This was particularly relevant to the College of Computer Studies students, who served as the conference's host department. Engr. Diosdado C. Caronongan, who is also the dean of the College of Computer Studies, has our university's deepest gratitude for making this momentous occasion possible. As her alma mater, we were extremely grateful that our most honorable Mayor Belen attended the occasion.
In connection with that, we would like to express our gratitude to Sir Joey Dela Cruz and Sir Jonathan Rosario Ortega of DWJE 88.1 FM Radyo Pangasinan for providing us with a platform to reach a larger audience, particularly radio listeners, with this crucial and timely event.
Since the internet has become an integral part of our daily lives, it is in our best interests to bolster and fortify our defenses against potential threats to the cloud-accessible versions of our personal profiles, banks, and accounts. Being among the first to host this historic event makes the University of Luzon proud to say that we are among the pioneers in moving in the right direction. We will take many more steps—and have already taken a lot of them—to make our university competitive on a global scale.