Mechanical Engineering Board Passer (February 2023)
Posted on 6th of Mar 2023 by UL Administrator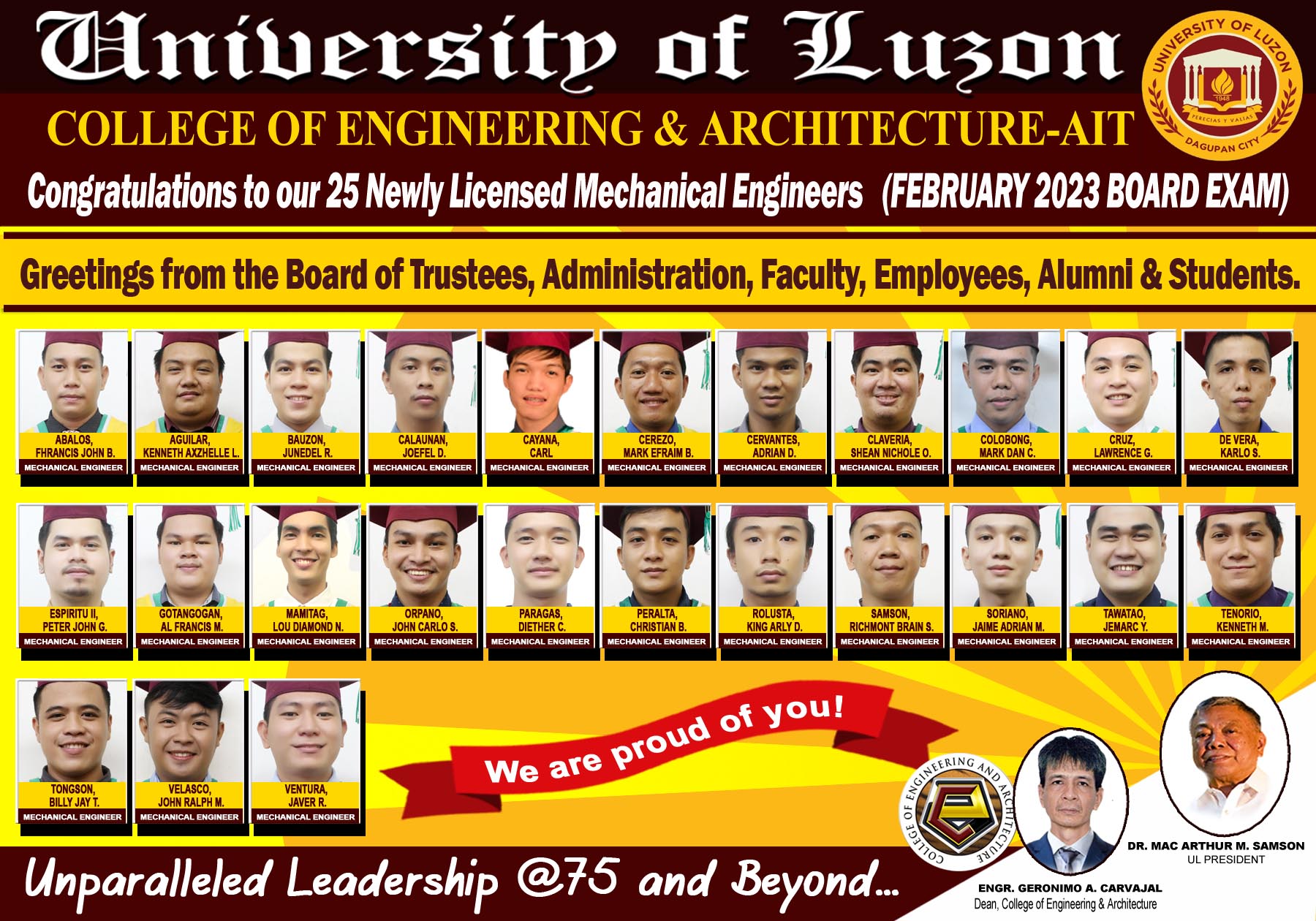 Congrats to the latest University of Luzon Mechanical Engineering Board Exam passers! Your diligence and perseverance have paid off, and we are pleased with your accomplishment. This demonstrates your knowledge, talents, and dedication to greatness. Your success provides not only glory to yourself, but also to our institution.
We applaud your persistence, commitment, and concentration throughout your academic career. Your achievement motivates us to continue providing all of our students with exceptional education and assistance. We are convinced you will make significant contributions to mechanical engineering and beyond.
We offer our heartfelt congratulations on behalf of the whole University of Luzon community to the following board passers:
Abalos, Fhrancis John Bautista
Aguilar, Kenneth Axzhelle Lapore
Bauzon, Junedel Riparip
Calaunan, Joefel De Vera
Cayana, Carl
Cerezo, Mark Efraim Beltran
Cervantes, Adrian Dion
Claveria, Shean Nicole Osed
Colobong, Mark Dan Centina
Cruz, Lawrence Gutierrez
De Vera, Karlo Seco
Espiritu, Peter John II Garcia
Gotangogan, Al Francis Mamaradlo
Mamitag, Lou Diamond Nacino
Orpano, John Carlo Siapno
Paragas, Diether Caguioa
Peralta, Christian Bautista
Rolusta, King Arly De Vera
Samson, Richmont Brain Soriano
Soriano, Jaime Adrian Melendez
Tawatao, Jemarc Yance
Tenorio, Kenneth Morante
Tongson, Billy Jay Tavares
Velasco, John Ralph Maramba
Ventura, Javer Rosario
Once again, kudos, and best wishes for your future pursuits!