Posted on 25th of Nov 2022 by UL Administrator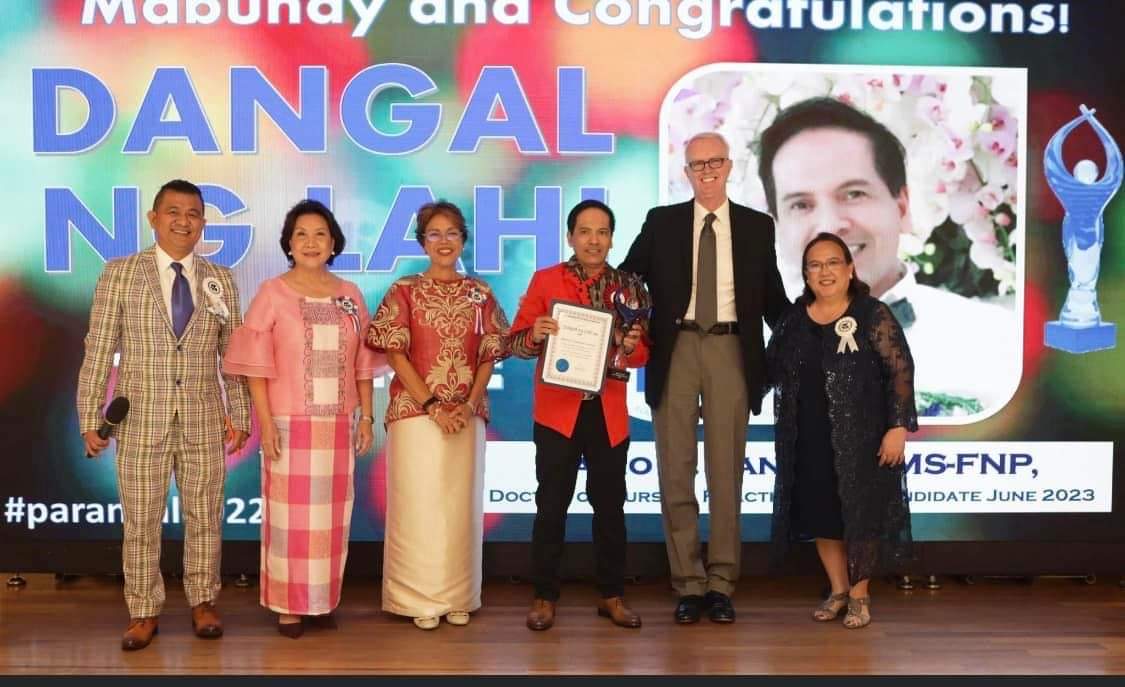 Life is a constant struggle and one cannot stay comfortably with what one has achieved or become. Things constantly change like a virus mutating. Mario Sanchez dreamt to be a doctor but due to a poverty-stricken life, Mario became a Nurse Practitioner in the United States instead. This strong-willed person is not afraid of changes and hard work. In his younger years, he recalled walking barefooted in grade school when his pair of slippers got torn off beyond repair not serving its purpose. At an early age of 8, he would wake up before the rooster crows in order to sell fruits in the market as the sun rose, then he would trek to the public elementary school in Mangatarem, Pangasinan. These things constantly remind him to always be grounded in life.
There is no time to think of self-pity with the circumstances one has but to challenge oneself through life in education. Mario graduated B.S in Medical Technology in 1987 at the University of Luzon (formerly Luzon Colleges) in Dagupan, Pangasinan. His college sacrifices paid off when he took the Philippine Medical Technology National Board Exam and got 2nd Place in August of 1988. For about 6 years, he taught at the University of Pangasinan College of Medical Technology and Natural Sciences Department. Teaching was always a natural ability whether it required various preparations like Biochemistry, Microbiology, Clinical Chemistry, or Zoology. Mario's heart was always into teaching and giving to Med Tech Students and Nursing Students. Mario knew that in order to progress he had to leave his beloved country in order to help his family by moving to Canada.
After he immigrated to Canada, he enrolled at St. Clare College – Windsor, Ontario in 1994 to earn a Diploma in Nursing with a 4.0 GPA. With this academic excellence, he then relocated to New York City to work as a staff nurse at Maimonides Medical Center in Brooklyn. He obtained a Bachelor of Science in Nursing in 2008 at Long Island University, and in 2011, he completed his Master of Science in Nursing with a dual program in Family Nurse Practitioner at Long Island University, New York. He is a Doctor of Nursing Practice (DNP) candidate, June 2023 at Chamberlain University College of Nursing. Mario always loves the clinical and academic aspects. A former adjunct faculty at New York University (NYU) College of Nursing, he holds various national certifications such as being Board certified as a Family Nurse Practitioner by American Nurse Credentialing Center (ANCC); nursing Critical Care Registered Nurse (CCRN) and Stroke Certified Registered Nurse (SCRN). He also holds a national medical certification from the Federal Motor Carrier Safety Administration, a certification that is only traditionally given to medical professionals in the United States.
Learning is something of value and Mario feels significant when he gets to update himself with new knowledge added to his career. Mario finds time to help AFTA with their flagship project, Balik Turo, for 8 years now in his hometown. Currently, he works as a Senior Clinician and as a Nurse Practitioner at the Forest Hills Rehabilitation, and works part-time as a Primary Care provider at True Care Medical PC., serving the underserved community in Flatbush, Brooklyn. Mario dreams of a greater Philippines with a healthcare system that is globally competitive, just, and equitable to the Filipino people.
Recently, he received the Dangal ng Lahi 2022 Award from AFTA (the Association of Fil-Am Teachers of America), the highest honor bestowed by the Association of Fil-Am Teachers of America for outstanding achievement and service to the teaching profession. The awardees honor not only Fil-Am educators in the United States but also our Philippine heritage.
Related Link